Phuket beaches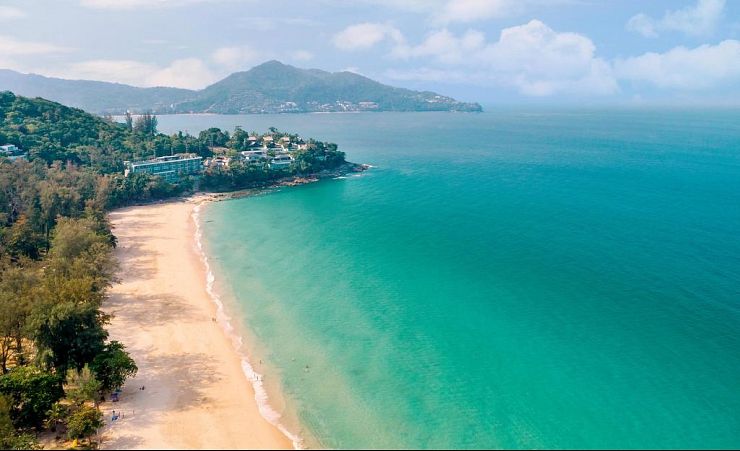 Nai Thon Beach:
Nai Thon Beach is a beautiful stretch of sand on the west coast of Phuket. A rough 10-15 minute walk from one end to the other along the pristine coastline.
It's a great spot to get away from the crowds and enjoy a quiet swim. Nai Thon is a village of 2 seasons. During the high season, the hotels fill up, the sea is flat, calm and crystal-clear, and beach restaurants appear where you can dine with your bare feet in the sand.
Although still unknown to many travelers, this fantastic beach in Phuket offers a peaceful town with just enough restaurants and facilities not to feel too remote. But still all the essential amenities you need for a great holiday in Phuket.
Nai Yang baeach:
In the far north of the island is Nai Yang beach. It is near enough to the airport that one can sit and watch the planes arriving and departing although one is not close enough to be disturbed by the noise they make. It is far away from being a typical tourist brochure, antiseptic, palm fringed paradise, but it is very pleasant the huge expanses of white sand lined by weirdly shaggy Casuarina trees.
Why Nai Yang is so attractive? Blessed with clear skies, bright sunshine and long white-sand beach, Nai Yang is one of Phuket's most-striking neighbourhoods to live well. This neighbourhood is popular among those keen to soak up local vibes and get away from the hustle and bustle of city life. The soothing scene of the pine trees scattered along the beach and blue water makes it natural to fall in love so easily. It's a place full of adventure, stunning sights and inspiration.
Bang Tao beach:
Bang Tao beach is one of the most desired neighborhoods in Phuket for a lot of reasons, not least its accessible tourism facilities including sophisticated restaurants, family-friendly destinations, beach clubs and golf course. Bangtao Beach spans 6 km in length, making it one of Phuket's longest beaches. For the most part, it's pretty deserted – hotels mostly occupy its southern end, while the northern end is generally very quiet and peaceful. Only a few small beach bars are dotted along its length.
The sea is flat, calm and clear from November to April. The waves can get a little rough between May and October, so take note of red flags on the coastline. Bangtao Beach attracts those looking to leave everything behind and do nothing more taxing than reading a book.
The exception to this rule is if you're at the southern end of the beach. There are several beachfront hotels and beach clubs, resulting in a very lively atmosphere in the evening. However, Bangtao remains one of the most family-friendly beaches in Phuket.
Surin Beach:
Surin Beach in Phuket is an excellent spot for sunbathing on fine and white sand, with the Andaman Sea stretching out before you. Its calm and clear waters are excellent for snorkelling and kayaking, as well as boogie-boarding and surfing. Long gone are the many famous beach clubs and the long line of restaurants that made this place so popular, but it looks a lot more natural now. It still is blessed with a large beach of beautiful sand and a fantastic blue sea. The quality of the water and sand always makes it one of the most beautiful swimming spot on the island. Swimming is excellent during high season as the water can be incredibly clear as you can see on the photos below (December to April), but the sea can be rough in low season.
You can find the 1-km-long Surin Beach along Millionaire's Row on Phuket's west coast. It's surrounded by boutique shops, high-end resorts and residences. It's very popular year-round, though swimmers must take note of strong currents that often come during the low season.
Layan Beach:
Layan Beach is the name of the northern end of Bangtao Beach on the west coast of Phuket. Unlike the majority of Phuket's west coast beaches, it's still a very tranquil area, where you can lie and relax under the shade of the tall pine trees bordering the beach.
What makes Layan a great neighbourhood? Nestled amidst the bliss of lush green hills and beaches, Layan has evolved into a vibrant and arty neighbourhood over the years with top-notch dining venues and lifestyle destinations. Even though this beach side district is located near many tourist attractions, it is surprisingly quiet, peaceful and totally livable. There are many hidden green spaces and stunning secret places most people don't know about. Often overlooked by tourists, Banana Beach is a great spot to settle down by a water for a picnic.
Kamala Beach:
Kamala Beach is a quiet stretch of sand located around 9.5 km north of Patong in Phuket. It's an excellent spot for sunbathing and you can find many beach activities at the northern end of the beach. With its quieter pace, Kamala is a popular spot for retirees and longer-term visitors in Phuket. Along a winding road leading to the beach, there are small hotels, villas and apartments with great views of Kamala Bay.
Kamala always delivers one of Phuket's best living environments with hearty cuisines, finest entertainment, love of feverish nightlife, facilities and services provided by hotels in the area. Each year, regulars and new visitors are drawn in by its welcoming and vibrant vibe. Despite its popularity, Kamala has not been totally overrun by holidaymakers. You can still find privacy and have a taste of local life. And a smart bus makes reaching attractions on the western part of the island and airport easier.
Kamala Beach is extremely popular with photographers doing pre-wedding shoots for betrothed couples. You will often find half a dozen different couples posing along the sand, each in their full wedding regalia. If you want to pose for some nice holiday snaps, you'll find the long-tail boats at the southern end of the beach give a more local vibe while the smooth sand and nodding palms further north are good for paradise-like settings.
Patong Beach:
Patong is and always has been a commercial district of Phuket. Its insta-worthy beach and one-of-a-kind nightlife scene have attracted countless visitors from all over the world, making Patong perhaps the most instantly recognizable place in Phuket. Gastronomic treats, energetic nightclubs, chic shopping destinations and exciting new things continue to breathe new life into this unstoppable neighborhood.
Patong Beach is known for its nightlife and 2850-metre (1.77 mile) beach that runs the entire length of Patong's west side. Nightlife is centered in two main areas, Bangla Road and the "Paradise Complex", with Bangla Road being predominantly straight and Paradise Complex gay. Both are lined with many bars, discotheques, and go go bars. Prostitution in Thailand is illegal, but tolerated, as is the case in Patong.
Patong's 3-km strip of golden sand is one of the most popular beaches in Phuket. It has plenty of parasailing and jet ski operators, boat drivers, beach vendors and masseuses approaching travellers who are relaxing on the sand.
Kata Beach:
Kata beach is a The town stretches for 2 kilometres along the back road, but keep in mind that because Club Med resort occupies 90% the large majority of the restaurants, hotels, and shops are not on the beach, but on that second road. 1.5km long paradise waiting for people to visit and fall in love. White sands, clear seas, tropical trees and endless activities are just a few of the things that make Kata beach so special.
Kata Beach is one of the most visited beaches after Patong Beach. Kata enjoys a superb sandy bay with an incredibly blue sea and an iconic island standing in the middle of the sea, making excellent sunset photos.
Karon Beach:
What is it like to live in Karon? You get to enjoy the best of both worlds and maintain a healthy work/life balance in a place like Karon. Patong and Chalong are less than 20 minutes away by car, yet you can go straight to the beach after work then go for a fresh seafood meal before heading home. With long stretches of white sand beach, life in this friendly neighbourhood is all about to embrace all aspects of being in nature and to have fun outdoors. Your options include leisurely walks or running on the beach path to Kata, join beach volleyball when nets are set up on a sandy beach in the evening, or bring your picnic and settle down on the beach with family and friends to enjoy a weekend.
What does Karon property market has to offer? Karon's properties have the whole package that homebuyers and investors look for. They have sea views, beachside park, sports facilities, smart bus and awesome dining options. Price ranges from THB 3.7 million for stylish condominium on a hillside overlooking the Andaman Sea to THB 19 million for penthouse with panoramic views of Karon Beach.
Rawai Beach:
Rawai Beach lies at the southernmost tip of Phuket. This west-facing beach is very pleasant, with plenty of trees providing shade. Just west of Rawai is Promthep Cape (Laem Promthep) a small peninsula that provides an excellent viewpoint over the Andaman Sea and beach is characterized by renowned cafes and restaurants, bold entrepreneurs and cultural diversity. There are always scenic natural attractions to go when the sun shines to keep the spirits bright. Supermarkets and grocery stores are located within easy reach.
Rawai Beach is not a sunbathing or swimming beach in Phuket. It's a major point of departure for boats heading out to the surrounding islands. There are signs up along the beach road, quoting prices for longtail boats for hire.
There is a regular seafood market in the Sea Gypsy Village, at the eastern end of the beach. If you're driving, it's best to park on the side of the road. Make sure your car is in the direction you're heading, or you"ll risk getting fined.
Naiharn Beach:
Nai Harn Beach is set in a small bay that retains a quiet charm, being home to only a few hotels, restaurants and shops. It's also a popular anchorage for boats during the high season. Nai Harn is great for swimming from November to April. Care should be taken in the low season, from May to October, when the calm seas are replaced by strong currents, making it better suited to surfing and kitesurfing. The local restaurants just above the beach make a great place to relax with a sundowner.
Further south is Ya Nui Beach, a sandy cove that attracts snorkelers and divers. Another out-of-the-way spot nearby that's also great for snorkelling is the tiny beach of Ao Sane. Naiharn has enough restaurants, hotels and shops for a great day and has remained relatively untouched. The protected bay offers great anchorage for sailing boats and luxury yachts and has always been very popular among expats and locals.